RANGE OF SERVICES
Shoulder orthopaedics at the highest level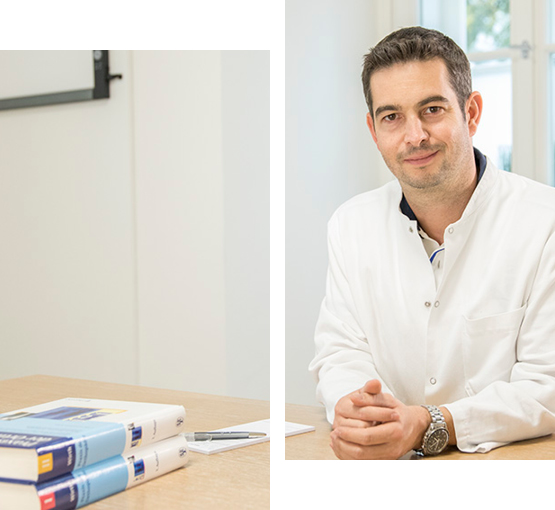 In my private practice I offer my patients a wide range of conservative and surgical therapies.
CONSERVATIVE ORTHOPAEDICS
Conservative therapy is the non-surgical treatment of diseases and injuries of the musculoskeletal system. This includes the following therapies, which I offer in my private practice:
Multimodal pain therapy
Physiotherapy in cooperation with physiotherapists
Infiltrations with anti-inflammatory substances or products to improve cartilage metabolism (hyaluronic acid)
Shock wave therapy
SHOULDER ORTHOPAEDICS
This is a young specialist discipline in the field of orthopaedics.
It has developed rapidly in recent years and opened up new possibilities that previously seemed impossible. Nowadays, most shoulder operations are performed arthroscopically, which significantly reduces postoperative pain and shortens the rehabilitation period after the operation. It is often possible to have the operation performed in a day clinic, which means that you can leave the hospital on the same day.
The operation is performed arthroscopically for the following diagnoses:
Rotator cuff ruptures
Shoulder dislocations
Shoulder instabilities
Impingement
Calcified shoulder
high satisfaction
PERSONALISED PROSTHESES
Another important area of my surgical activity is the treatment of shoulder arthrosis  by means of a prosthesis. For a long time, the shoulder prosthesis had a bad reputation because the complication rate was high and the mobility after the operation often did not meet expectations. Here, too, there have been many improvements in recent years, so that most of my patients are very satisfied with the results. I use personalised prostheses that are planned just for you. A 3D model of your shoulder is created so that the prosthesis is optimally positioned and adapted for you.
ORTHOPAEDICS AND TRAUMA SURGERY:
As a specialist in orthopaedics and a trained trauma surgeon, I also offer the following surgical procedures:
Knee arthroscopy
Carpal tunnel syndrome
Snapping finger
Hip and knee endoprostheses
Fracture treatment
Fees and procedure
YOUR VISIT TO MY PRACTICE
more