ROTATOR CUFF
Common causes of shoulder pain
ROTATOR CUFF
Common causes of shoulder pain
WHAT IS THE ROTATOR CUFF?
The rotator cuff of the shoulder can also be called the muscle-tendon cap. It is a group of four muscles: M. supraspinatus, M. infraspinatus, M. teres minor and M. subscapularis.
The rotator cuff pulls over the head of the humerus and contributes a lot to shoulder movement. Unlike other joints, the shoulder has only weak bony guidance due to the small glenoid cavity. An important task of the rotator cuff muscles is therefore to hold the head of the humerus in the flat socket of the shoulder blade. The individual muscles are responsible for internal rotation, external rotation and abduction (turning and lifting) of the arm.
WHAT ARE THE SYMPTOMS?
A major impairment is rotator cuff rupture, which often occurs in the course of an acute injury (e.g. a fall on the shoulder or arm) as well as through wear and tear with age or overuse and overloading of the rotator cuff (degenerative rupture). Wear and tear in the context of an impingement syndrome of the shoulder can also lead to a rotator cuff tear.
If the rotator cuff is injured, the biomechanics of the shoulder are severely disturbed and the injury can result in various limitations for patients. Typical symptoms are pain when lifting the arm and restricted movement. The shoulder can bear little or no weight and overhead movements such as combing the hair or reaching into a higher shelf are virtually impossible. In addition, many patients suffer from a loss of strength in the arm and pain when lying on the affected shoulder. The extent of the complaints depends on the size and exact localisation of the rupture and possible concomitant injuries.
Common symptoms:
RESTRICTED MOBILITY AND THE SHOULDER IS NOT ABLE TO BEAR WEIGHT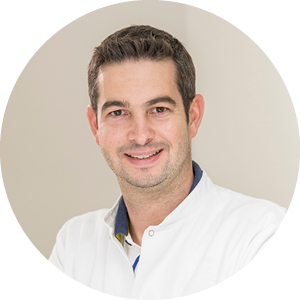 We will also find for you
THE BEST TREATMENT
Contact me
WHAT ARE THE TREATMENT OPTIONS?
The treatment of a rotator cuff rupture can be conservative and surgical. I perform operations on the shoulder arthroscopically (minimally invasive). In the surgical treatment of a rotator cuff rupture, the torn tendon is closed. The aim of the operation is a stable suture of the damaged tendon. Afterwards, accompanying physiotherapy is necessary. For this purpose, I work together with experienced, specialised physiotherapists, so that comprehensive care is ensured until the healing process is completed.
As a rule, surgery is advisable for younger patients, for patients with high demands on the shoulder joint and shoulder mobility (e.g. athletes), and for patients whose symptoms do not improve as desired after conservative treatment for some time. Conservative therapy includes anti-inflammatory medication, physical therapy measures and physiotherapy and aims to maintain movement, relieve pain and strengthen the shoulder. The treatment plan is drawn up individually for each patient after an exact diagnosis has been made and a detailed consultation has taken place.
If you have any questions about the treatment of the rotator cuff, please do not hesitate to contact me at the clinic.